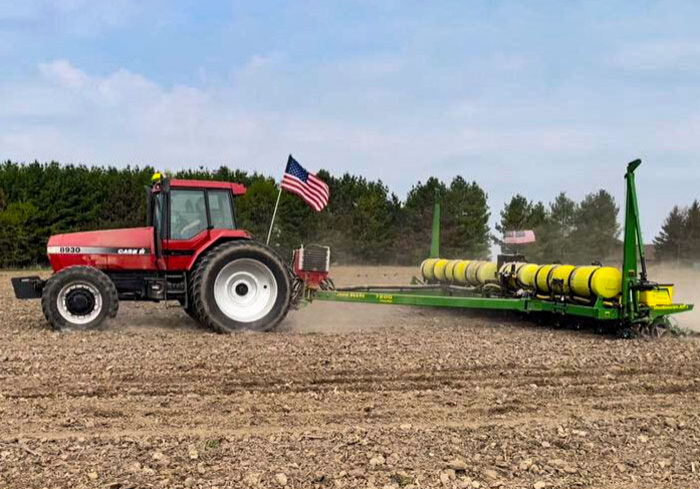 Mark and Sarah McMullen and their children, Keegan, Reilly and Shea, comprise the MAC's Ag Services team. MAC's is farm family business dedicated to improving the success and profitability of other family farms.
Mark and Sarah began their life together in 1994 when they married, established Shamrock Hill Farm, in rural Adell, WI (Batavia) in 1998, and started their family in 2000. Mark grew up on a small farm growing primarily canning crops and worked on a local dairy farm throughout his middle- and high-school years, and Sarah grew up on a mid-sized dairy farm. Mark and Sarah have never lost their passion for agriculture. Despite the fact that they studied for and obtained off-farm jobs over the years, they always farmed on the side, growing Shamrock Hill Farm into a 350 acre cash crop operation where they enjoy experimenting with crops and technology to improve performance.
While Mark is a farmer at his core, he's also an ASE Certified Master Automotive Technician as well as an Engineer, having worked 16 years in quality and new product development with a manufacturer as well. Precision Planting is a perfect combination of all of his skills and interests, and he enjoys helping farmers finding practical ways to improve the performance of their equipment. He and Sarah both enjoy digging in to find hybrid solutions that work on local farms. Sarah also manages the business' accounting and marketing efforts.
Keegan and Reilly are trained Precision Planting technicians who work alongside Mark to complete planter checks, meter optimization, repairs, installation of Precision Planting products, and responding to field service calls. Keegan is also trained to conduct field analytics using POGO. A busy high school student, Shea helps Sarah with the office work and in the field and shop as much as she can. The family enjoys working alongside one another, making use of their individual talents.