Planter Readiness Workshop April 1, 2023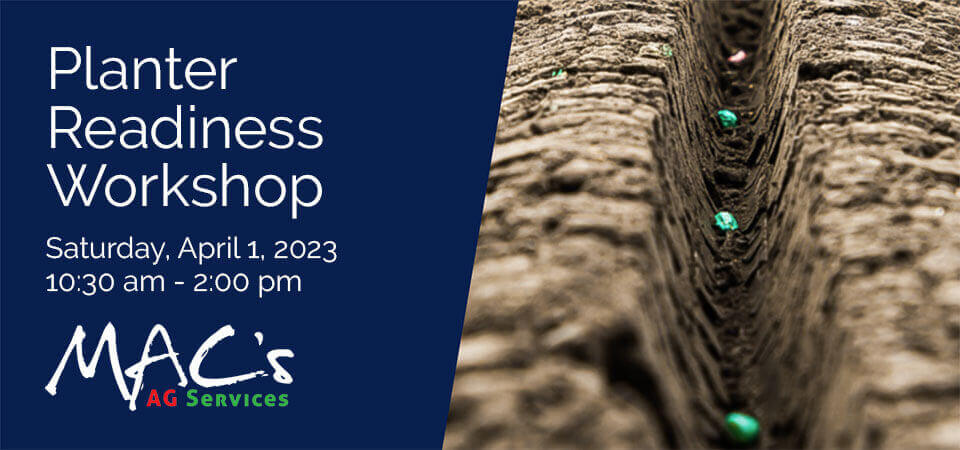 MAC's Ag Planter Readiness Workshop
Saturday, April 1, 2023
10:30 AM – 2:00 PM CDT
This is an in-person, no-cost event. Please register to save your spot!
MAC's Ag Services Shop
N1898 Cedar Rd
Adell, WI 53001
CLICK HERE to register online for this FREE event.
We're just weeks away from making our most important pass of the year… the one that determines our yield potential. Is your planter ready? Join the MAC's team for our Planter Readiness Workshop where we'll discuss why emergence matters, and show you how to make sure your planter is maintained and set up for success. Hands-on demonstrations, discussion & Q&A led by farmers like you. Lunch will be provided.
Bring your meters along to schedule calibration in time for Spring.
Event Schedule
Saturday, April 1, 2023
10:30 am – Why Planter Readiness is Important – Emergence
10:55 am – Anatomy of the Row Unit
11:10 am – Maintenance & Setup Fundamentals
12:00 pm – LUNCH (provided)
12:30 pm – General Planter Setup, Bar Height & Leveling
12:45 pm – The Meter – The Heart of the Row Unit
1:10 pm – Evaluating Downforce
1:25 pm – Monitoring to Make Good Decisions
1:45 pm – Q&A
2:00 pm – Closing
20|20 Gen 3 Monitor Refresher to Follow at 2:15 pm.